Ask the VR Photography Experts

Q: When is the new Manfrotto multi-row VR pan head supposed to be out?

A: As of early September (2003), both Manfrotto and their U.S. distributor Bogen report wide availability of the new Manfrotto 303SPH (spherical) head through their retailers.
The new head is designed for multi-row cubic and spherical panorama sequences (as well as traditional cylindrical panos). It also has been designed to allow its use as in indexed object turntable base (it has self contained indexes from 4 up to 72 click stops per 360 degrees). It is considerably smaller and lighter than the original 302 and 302Plus models, and features a folding vertical arm, so it can be packed and transported in a camera bag more easily. I was asked to advise Manfrotto on the design of this new head, which I did. While not all my recommendations were followed, the result is a quantum improvement in the overall functionality and usefulness of the Manfrotto head, without any loss in Manfrotto's renowned durability or product quality.
For a special web site presented by Manfrotto featuring details of the new 303SPH and other VR products, go to: http://www.manfrotto.com/303SPH/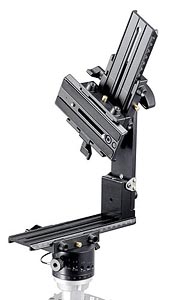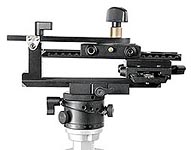 It's great to know that VR equipment manufacturers such as Manfrotto, Kaidan, Peace River Studios and others, continue to see the potential of the VR market and provide ongoing improvements to their products for the benefit of so many of us who use them. We owe them a debt of thanks, and our continued support.
- Scott Highton